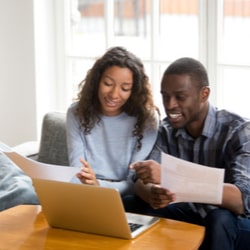 Should you let your insurer know if you're away from home for longer than 30 days? Tell them about expensive artwork? Upgrades and repairs to your property? Homeowners can take a big risk by not reading their home insurance policies. There may be stipulations you don't know about and things you want to avoid.
Here are a few mistakes you don't want to make with your home insurance policy.
You have expensive jewelry, artwork, or collectibles and don't take out a rider.
Homeowners sometimes make the mistake of assuming "everything" they own is included in their policies. What they don't understand is that insurance may only cover basic replacement costs and not full value.
What You Need to Know
Typical home insurance policies only offer sub-limit coverage. Insurance might only reimburse $500 for a coin collection or $1,000 for a stamp collection. Here's an example.
In one case in St. John's, a couple had art and jewelry valued at $396,000. But, the insurer only covered about $99,000.
A few steps to take:
Have expensive merchandise appraised.
Save all receipts safely online including receipts for cleaning or upgrades.
Next, take pictures and video to show all valuables and store this information safely online.
Request a separate insurance rider (coverage) for the collections to cover their actual value.
You assume you're covered for floods, earthquakes or a sewer backup and don't confirm this with your insurer.
Some events like sewer back-ups, flooding and earthquakes aren't covered in standard insurance policies. You might have to add additional coverage for these types of events. Climate change has caused more severe weather, and, insurers have changed coverage limits over the years as a result.
What You Can Do
Call your insurance agent to confirm if these items are included in your policy.
If you're in an area prone to flooding or sewer runoff, consider a policy extension.
If you're a potential homeowner, research the area to assess if flood risks are high there.
If you currently live in an area that experiences a lot of flooding, take precautions to move items out of your basement and any low-lying areas. Install a sump pump and move all valuables and expensive collections to a level that's higher than the flood level in your area.
You're away briefly, in the hospital, or on a short vacation in the winter and don't check your insurance policy for exclusions.
The forecast indicates a blizzard is on the way and you're excited to get out of town. You've booked your excursions and purchased travel insurance to safeguard your trip. Or, maybe your story is different. Perhaps you're not going away but heading into the hospital for a small procedure. In both cases, you might have forgotten to check your home insurance policy. It's a small oversight you might not be aware of that can cost you.
Why This Is a Problem
Some home insurance policies state you can't vacate your home for longer than 30 days without having someone check your home on a regular basis to ensure that the heating etc. is working or they won't cover damages. While others might state you can't vacate a home for longer than four days during the winter season. Why? Because pipes can freeze and burst causing water and mould damage if left unchecked. One Ontario woman was left with an $11,000 repair bill that her insurance wouldn't cover. She was away from home for medical treatments for a few weeks. Her furnace broke down and the pipes in her home burst causing a lot of water damage. When she contacted her insurer, her claim was denied.
What You Should Know
To avoid a claim denial, read your policy. See what it states about time away from home and if you need to contact your insurer because every policy is different. Exclusions might not always be clear, but if you're still unsure, contact your insurance professional and ask them to explain your policy.
This is especially important for:
A person with a medical illness or hospitalization
Homeowners renting out their property
Snowbirds that travel for extended periods
Travellers that head out of town a few times a year
In the case of the woman whose claim was denied, her policy had specific stipulations. It stated that if she was away for four days or longer in the winter, she wouldn't be covered if there was water damage unless she had someone like a responsible neighbour who checked on her property daily.
Another Concern: Trip Cancellations Due to Emergencies Back at Home
One problem some homeowners encounter is unexpected emergencies. Here's an example.
The homeowner checks their policies before travelling. They alert their insurer that they plan to be away and have a neighbour check on their property. They covered all their bases, right? Wrong. While they are away, the boiler breaks down or they have significant flooding damage and have to return home right away. They then have to rebook their flight and cancel the rest of their hotel stay. This can be very expensive as the flight might be higher and the hotel or vacation rental might not waive the cancellation fee.
What You Should Do
Purchase
trip cancellation insurance
to safeguard your trip. Trip cancellation insurance can cover flight delays, cancellations, illnesses, and lost or damaged bags. That way, you're always covered when you travel if you have to deal with unexpected emergencies abroad or back at home. Because severe weather can occur at any time, protecting your home and your trip are equally important.
You're a snowbird or renting your property and it's unoccupied for 30 days or longer and you don't contact your insurance provider.
There are some appointments and travel dates you can't change. You might also be renting a property and find yourself in-between tenants. If you're going to be away for more than 30 days, or your rental property is vacant, let your insurer know. If not, while you don't realize it, you're technically voiding your policy.
An Example
You have a rental property and your tenants vacate it. New tenants won't move in for another three months. You have to let your insurer know, move back in temporarily or have someone stay at the property in the interim. Why? If you don't, they'll treat the property as vacant and not unoccupied. But, what's the difference?
A Vacant Home Versus an Unoccupied Home
The insurance company defines vacant and unoccupied differently. These are important to understand so your claims aren't denied.
A Vacant Residence/Home
Vacant homes have no furniture in them and it's likely the homeowner isn't returning. An example is a home that's sold and the owners move out but no one is living in it and there are no furnishings. The utilities are not on, cabinets and fridge are empty and the power is off.
An Unoccupied Home
The homeowner or tenants are not at the residence and might be travelling for short periods. The furniture is there, utilities and power are on and food is in the cabinets and fridge. An example is a family that travels out of town on a brief holiday and plan to return home after their trip.
Requesting a Vacancy Permit
Your insurance company might be able to provide you with a vacancy permit. This will provide special coverage if your home is vacant.
Travel Safety Checklist Before Heading Out of Town
Having a checklist can help you protect your home while you're away and it should include:
Calls to Make
Call your insurer to confirm what your policy requires for extended travel.
Call your alarm company, let them know you're travelling and give them the best contact number.
Call a neighbour and have them check on your home once or twice daily at different times (to deter thieves). Hold your mail or ask a neighbour to collect it and remove any flyers or packages.
Call your landscaper and arrange lawn mowing or snow removal service (and keep your drapes drawn to deter criminals).
General Maintenance
Check your pipes and ensure they are properly insulated if it's winter
Keep your heat on during winter so your pipes won't freeze
Set interior and exterior lights with timers and motion detectors (added deterrent)
Add surge protectors to protect computers and other electronics from a power surge
Why Insurance Stipulations are Important
It might seem time-consuming to do all this planning before a trip, but you're ensuring if there is any damage that will require you to file a claim, it won't be denied. Insurers may have stipulations that you need to bide by, like having a responsible party checked on the property when it is unoccupied.
The insurer may also have stipulations about how many times a neighbour should check on the property. They may request that you turn your water off and drain the pipes so they won't freeze in the winter. Or, they might ask you to keep the heat on and install a water sensor. Check with your insurer if you're not certain what they require.
Ensure You're Covered with the Right Home Insurance
Assuming a policy will cover all your belongings is a big mistake. And, assuming you can travel for extended periods is another big insurance no-no. Read your policy and talk to your insurer. By knowing the exclusions in your policy and having riders for special collections or jewelry, you'll have the right amount of coverage. Start your search for the best home insurance by visiting Kanetix.ca.
With Kanetix.ca, you can compare insurance quotes from Canada's leading insurers and get the best insurance coverage. Compare home insurance quotes today.