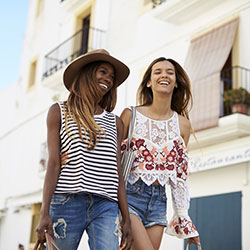 Canadians are some of the most well-travelled people in the world. It's a big world out there and based on the destinations favoured by Canadian travellers in 2019 so far, we're all over the map...literally.
Travel Tracks: The Countries Most Visited by Canadians
As our closest neighbour, the U.S. is the most popular destination for Canadian travellers according to Kanetix.ca data. But when looking to leave it all behind where else are those looking to fulfill their need for wanderlust going? Based on travellers who compared travel insurance quotes this year, Canadians are travelling far and wide.
United States
Mexico
United Kingdom (A popular choice for those who like to travel solo.)
Cuba
Dominican Republic
Italy (A top pick for a getaway with your significant other.)
Australia
France
Spain
Portugal
Where in the World Will You Travel to Next?
Luckily, travel health insurance covers us almost anywhere we want to go, and you'll want to pack your coverage right alongside your passport. The Government of Canada strongly encourages travellers to "Say Yes to Travel Insurance!" because:
Your Canadian health insurance is almost certainly not valid outside of Canada
Your provincial or territorial health plan may cover nothing or only a very small portion of the costs if you get sick or are injured while abroad
Hospitals and clinics in some countries have been known to refuse to treat patients who become ill or who have had an accident and who do not have adequate travel health insurance or the money to pay their bills
The Government of Canada will not pay your medical bills
When you're away from home, even a small accident or sudden illness can become a big medical expense. No matter how short your trip, or how close to home you'll be, you should never travel without travel insurance coverage.